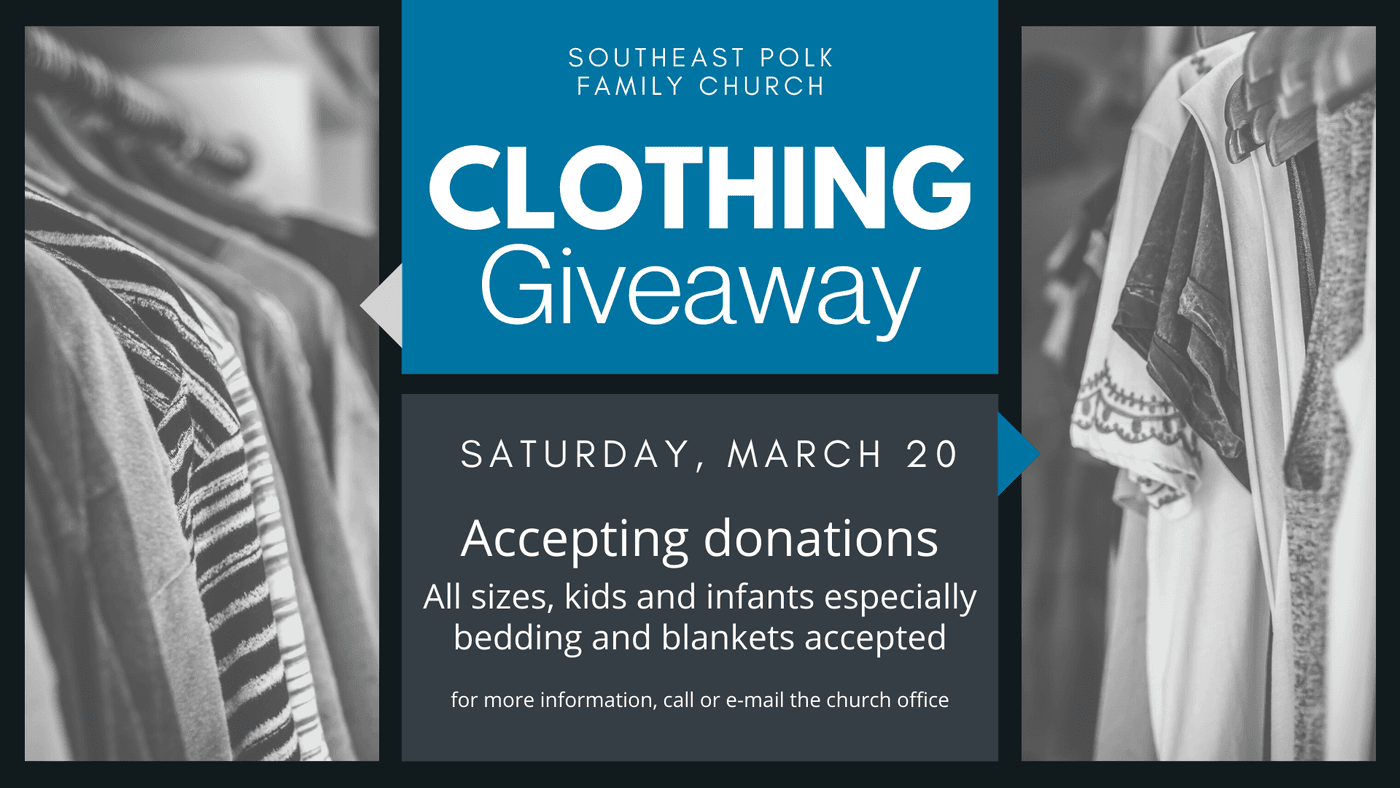 2021 Clothing Giveaway
Due to various circumstances, we are unfortunately only able to hold the Clothing Giveaway this year, not the Rummage Sale. However, we are praying and planning for a great event to help families in our community with much needed clothing and bedding. During the pandemic in particular, many agencies were unable to accept clothing donations, and several local clothing charities had to shut their doors. Therefore, we believe our annual giveaway is needed more than ever, so we will be adding more hours to our event! Stay tuned for details.
Please contact our church office if you would like to schedule a time to bring a donation!
Keep an eye on this page for information regarding whether the Rummage Sale will resume in 2022!
What is it?
Each Spring, typically the Saturday at the end of Southeast Polk School District's Spring Break, Family Church holds a FREE Clothing Giveaway for the community in our auditorium. Over the years, we have distributed much needed clothing items to hundreds of families in our neighborhoods. On the same day, we also host a Rummage Sale in the fellowship hall, with thousands of household items, collectibles, sporting goods, tools, kitchenware, electronics, baby and toddler items and toys, and much more. The items are priced well below market value, and the proceeds go toward Family Church's missions projects.
How Can I Help?
Throughout the year, consider putting aside clothing you no longer need, in anticipation of our Clothing Giveaway. We typically begin collecting items in February each year!
In addition, if you are planning a move, or as you organize closets, redecorate, or sort through all that stuff in your basement, consider donating your unneeded items to our Rummage Sale.
Finally, keep an eye out here on this page for ways you can volunteer for the next Clothing Giveaway and Rummage Sale. We typically need people to help sort and display clothing and items throughout the week leading up to the sale. We also need helping hands during the event to assist customers. What a great way to serve your neighbors!