Our 2022 Events
Our Fall Clothing Giveaway at Eastview Community Center is coming up this weekend, Friday September 23rd 4-7pm and Saturday September 24th 9am-1pm!
We are still in need of donations, especially kids and teens clothing! We are available to accept donations at Eastview on MONDAY THROUGH THURSDAY THIS WEEK, September 19th through September 22nd, from 9am-4pm. You can come in through the main entrance, which is around the back side of the building facing the parking lot.
If you would like to volunteer to assist with sorting and displaying clothing, or to assist customers at the event, please Contact Us and we will get you connected!
Our 2021 Events
Our 2021 Spring Clothing Giveaway was held March 19th-20th at Southeast Polk Family Church. Following a tumultuous 2020 that saw many charitable agencies unable to operate at full capacity or accept clothing donations, the need for clothing resources was greater than ever, as was the desire to give. We received the largest donation of clothing, shoes, and bedding in our history. We served over 130 families over the two days of our event.
Our annual spring clothing giveaway has been such a huge success and a blessing to so many, we wanted to extend our reach further into the community we love to serve. On September 10-11, 2021 we held our first clothing giveaway at our Eastview Community Center location at 4010 E. 42nd Street, and we were blown away by the generosity of the donors as well as the profound need we were able to meet in that community. We served over 300 people over the course of the 2 day event. It was our largest giveaway ever, and we certainly anticipate continuing in this location next year!
THANK YOU to everyone who has donated, and to everyone who has assisted with sorting, setting up, displaying, and assisting customers at the events.
Continue reading below to learn more about how you can help!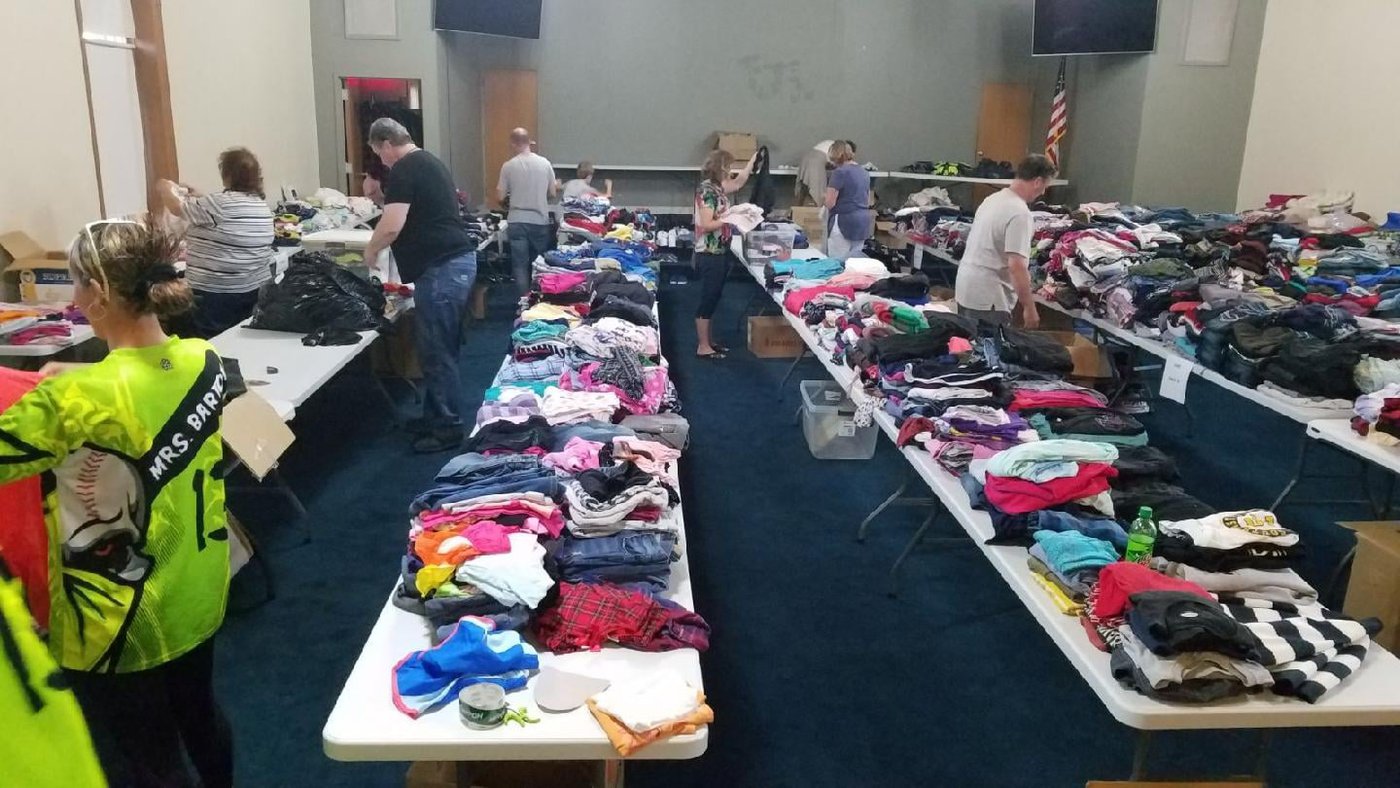 What is it?
Each Spring, typically at the end of Southeast Polk School District's Spring Break, Family Church holds a FREE Clothing Giveaway for the community in our auditorium at Family Church in Pleasant Hill. Over the years, we have distributed much needed clothing items to hundreds of families in our neighborhoods.
Beginning in 2021 we added a Fall event at our Eastview Community Center location for the first time, to help meet this urgent need in our community. We were so excited to be able to extend our reach into the east side community that we love and have a calling to serve. Our first giveaway at Eastview was a huge success, and we hope to continue the event in that venue each fall moving forward.
All items given away at these events are generously donated by members of the community, and sorted and set up for display by our awesome volunteers. Any items leftover after the events which cannot be stored for the next event are donated to local non-profit ministries providing similar services, such as Caring Hands Outreach Center or Highland Park Community Church's Renew Resale Shop
How Can I Help?
Throughout the year, consider putting aside clothing you no longer need, in anticipation of our Clothing Giveaway. We accept clean, gently used clothing of all sizes, styles and seasons, from dress clothing to business attire, to casual and sports wear. There is always a huge need for children's clothing. We also accept sleepwear, shoes, coats, accessories, bedding, towels, blankets and infant/toddler items. We typically begin collecting items in February for our Spring event, and in August for our Fall event.
Finally, keep an eye out here on this page for ways you can volunteer for the next Clothing Giveaway and Rummage Sale. We typically need people to help sort and display clothing and items throughout the week leading up to the sale. We also need helping hands during the event to assist customers. What a great way to serve your neighbors!